SOYBEANS & SOYA BEAN OIL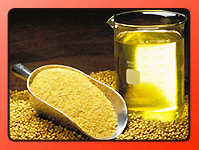 Soya Bean or Soybean is an essential seed, which provides oil and protein for animal feeds or rations. Soya Bean occurs in various sizes, and it is available in black, brown, blue, yellow, green and many other seed coat colors. Remarkably, it contains very high levels of protein that can survive after water absorption. Soya Bean seed appears in a large variety of processed foods and it is consumed directly by humans.
Soya Bean is largely used in food industry as it is a cholesterol-lowering food, which gives heart and health benefits of human beings. Cultivation of soya bean is successful in hot summers with optimum growing conditions in minimum temperatures. Now days, the soya bean is prime food in the United States. Brazil, Argentina, and Paraguay.
Soya Bean is a vegetable seed, which cooks more easily. Such kind of food is higher in protein, lower in oil and it provides a mild nutty flavor with better texture. The bulk of the soybean seed is grown for oil production, used as livestock feed. Soya Bean contains isoflavones, which are consumed in the human diet. Processed soya bean is among the richest foods in total phytoestrogens, which is present primarily in the form of the isoflavones daidzein and genistein. It is considered that women with breast cancer should be aware of the risks of potential tumor growth by taking soya products. Soya vegetable oil is another valuable product of processing the soybean that is important ingredient in many meat and dairy analogues.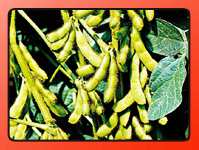 Soya Bean is a proper source of complete protein, which contains significant amounts of all the essential amino acids that must be provided to the human body because of the body's inability to synthesize them. For this reason, soy is a good source of protein that can be used for vegetarians or for people who cannot afford meat.
For human consumption, soybeans must be cooked with heat water in order to destroy the serine protease inhibitors. In other words, soya protein is the nutritional equivalent of meat, eggs, and casein for human growth and health. However, it is not advisable to consume raw soybeans. The FDA (Food & Drug Administration) granted a health claim for soya bean, i.e. - "25 grams of soy protein a day, as part of a diet low in saturated fat and cholesterol, may reduce the risk of heart disease."
We are leading manufacturer, supplier and exporter of all soya products like soyabeans, soya bean seeds, soya oil, soya bean oil and other soya bean products. We can provide any quantity of soya bean and soya vegetable oil from India.