OIL SEEDS DESTONER MACHINERY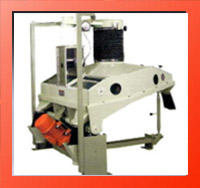 During the process of seed cleaning, other unwanted materials like glass, stones, etc. are not fully eradicated and removed. In order to fully separate all the impure and unwanted materials from the seeds, the use of Destoners(or de stoners) is highly important. The working process of de-stoners is very simple. Air is forced through the materials with the help of the pressure fans, which are located in the body of the machine. This separates the heavier material from the lighter ones. The Vibrating deck pushes the heavier material upwards to the stone discharging opening. Then the lighter material flows down the clean seed opening and is collected for use.
The seeds destoning machines comprises of pressure fans, gauges, vibrating deck, and two openings where the impure and pure materials flow out respectively. Manufacturers all over are coming up with the most innovative Destoners, by making use of high technology. These machines are easy to use and provides highly accurate results. These are available in different sizes and capacities. With the continuous vibrating, sifting, and air-flowing, all unwanted materials like stones, glass, and metal particles are removed.
There are a number of seed destoning machines that are available in the market today. These can be easily used with the help of controls and gauges and every activity can be easily controlled without any hassles. These are manufactured in such a manner that the level of vibration and motion can be adjusted as per the requirements. Each pressure fan can also be controlled individually. The size and length of the fan can be customized as per the requirements, and the speed of the fan can also be adjusted as per the requirement.
Destoning machine helps in separating the impure and unwanted materials from the seeds and thus, increasing the purity and quality of the seeds, which then further increases the quality of the vegetable oil that is extracted from these seeds. Apart from cleaning the oilseeds the destoner machines are also used to clean other grains and cereals.
As we all know that the more the seeds are clean, the more the quality of the extracted edible oil will be purer and better. Thus, destoning process is a very major and important process in the seed treatment procedure. Destoning machines are used for cleaning all sorts of seeds like:
Soybeans
Mustard seeds
Rape seeds
Groundnuts
Cotton seeds, etc.