OIL SEED ELEVATORS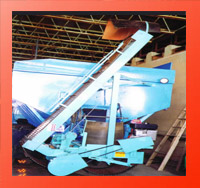 The process of seed cleaning can be very time and labour consuming, as the seeds need to be poured into the cleaning machines, and also need to be collected after the process of cleaning. To make the procedure for cleaning the seeds easier, Seed Elevators or Bucket Elevators play a very important role. They are used to lift the seeds and beans into the machine, thus saving time as well as labour. These are not used only during the process of cleaning but for every lifting or transporting work related to the seeds.

These equipment are used for lifting and transporting seeds in large number into the cleaner or thresher, without the use of any manual labour. This type of machine is divided into 3 sections, firstly, the top is used as the discharge section, the middle is known as the tank section, and the bottom is the intake section. The height of the elevator can be adjusted as per the requirements. Cleaning holes are also available on both sides of the intake sections, which enables quick cleaning.

These are highly sturdy and strong, and provides the right support for the transportation or lifting process of the seeds and beans. After the procurement of the seeds and beans, they need to be cleaned or separated from all kinds of unwanted particles like sand, dust, stones, husks, and metals. In order to do this, one needs to clean them with an equipment called Seed Cleaner. As this process is continuous and strenuous, the use of Seed Elevators is very essential. They help in easily transporting the seeds and beans into the Cleaner without the loss of time and manual labour.

In brief, some of the salient features of Seed Elevator Machines are mentioned as given below:
The height of these equipment can be increased or decreased as per the requirement
They need very less maintenance
The bottom intake section can be easily cleaned as there are doors on either sides of the section.
Seed elevators are used for high capacity transportation of seeds over longer distances and different locations. They can be used for transportation of almost any kind of seeds like Copra, Rape Seeds, Sesame Seeds, Sunflower Seeds, Safflower, and many more.