OIL SEEDS CONVEYORS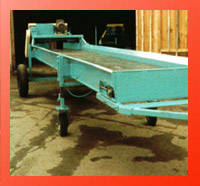 After the process of cleaning and cracking of the seeds, they have to go through many more processes in order to extract the oil from them. For this, they need to be transported to different locations where the other machines are installed. If the tranposting of the seeds are done by man, it could be a very streneous as well as time consuming procedure. In order to avoid the unnecessary waste of precious time and human labour, Seed Conveyors are used. Conveyors, as the word implents, are used for conveying things from one location to another. In this case, Seed Conveyors are used to transport seeds from one location to another. The transportation could be either of a long distance or a short one.

These Conveyor systems are made in such a way that the oil seeds or the seed cakes are carried in bulk to the various machines for processing. the capacity of these type of conveying machines vary as per the requirement. Even after the process of oil extraction is complete, these conveyors are used to transport the end products from one location to another. These are automatic and contributes immensely in saving time and labour, which otherwise is lost by doing the same things manually.

These conveying machines are known for its sturdiness and compactness. They are highly efficient and helps in decreasing the use of manual labour, thus speeding up the whole oil extraction process. The conveyor has a rubber belt. Seed Conveyors can be used to transport all types of seeds such as:
Mustard seeds
Sunflower seeds
Rape seeds
Palm Kernels, and many more.
The capacity of seed conveyor machines varies as per requirement. These are suitable for carrying large amount of seeds over short as well as long distances to different locations. The conveyors normally has a belt made of rubber. They are designed in such a way that it also prevents seeds from damage and mixing with other materials. Some of the other salient features of Seed Conveyors are as follows:
These are available in different capacities and types.
These are applicable for carrying oil cakes for short as well as long distances.
Helps in decreasing loss of time and manual labour.
These have sturdy and compact fabrication.