BOILERS FOR OIL MILLS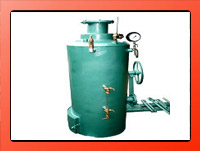 Oil seeds have to be cooked before they are sent for extraction. This is done so because conditioning of the seeds is a very important aspect of the vegetable oil extraction process. Cooking the seeds conditions them and gives them a much higher moisture content. This process increases the quantity of the extracted oil by a large ratio. The conditioning of seeds through cooking and heating is highly necessary for the purity and yield level of oil. The heating process is carried out in the steam kettles or cooking kettles. This is when Boilers come into the scene. Boilers provide the steam required by the heating kettles to cook and heat the oil seeds. Boilers are not necessary if the cooking kettles are run with the help of electricity.
This machine comprises of a water feeding pump which is mounted on top of the boiler. The water is then boiled by making use of different fuels. Any type of fuel can be used including wood, husk, and agricultural waste. The steam is produced during the process of boiling the water. This steam is required for conditioning and heating the seeds that are placed inside the cooking kettles. The steam is let out through an opening which is directly connected to the kettle. Boilers are available in different vertical as well as horizontal types, and are also available in different sizes and capacities as per the market requirements.
Manufacturers are coming up with the most innovative types of boilers by making use of the latest technology. Since the use of boilers play an important role in heating or cooking the oil seeds, as the steam required for heating or cooking is provided through the Boilers. Some of the main features of Boilers are as mentioned below:
These can be used for both small scale as well as large scale industries.
Oil, wood, agricultural waste, and husks can be used as fuel to provide the heat for boiling.
Can be used to boil all types of seeds such as Castor seeds, Soybeans, Groundnuts, etc.
Low running cost.
High steam generation speed.
Available in different sizes, types and capacities.