DECORTICATORS & SEPARATORS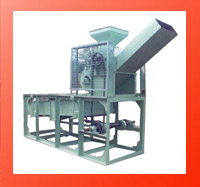 The act of stripping the hulls of the seeds is known as decorticating. Decorticators and Separators are two different types of machines used for cleaning and separating the hulls from the seeds. In order to come up with the most optimum quality of oil, it is very important to remove the unwanted particles like hulls and stones away from the oil seeds that are to be expelled. The process of decor
These machines are made of steel and are constructed in such a manner so as to give them a strong and sturdy body. the machines consist of specially designed knives, which are fitted well for the purpose of cutting the seeds in such a manner that the hulls are fully separated from the seed, as well as no oil is absorbed by the hulls. The knives are in perfect alignment with the rotating cylinder. These are also easy to maintain as well as operate. The speed of the operation can be adjusted as per the requirement of the user.
Some of the salient features of Decorticators and Separators are as follows:
They have a rotating cylinder with numerous rows of knives which are carried on heavy ball bearings.
They are also highly easy tom operate as well as maintain.
They can be used for decorticating and separating all types of seeds like Cotton seeds, Soybeans, Castor seeds, and many other small oil seeds.
Besides the regular Decorticators, another type of this type of machine is the Groundnut Decorticator. These are specially made to crack the shell of the groundnuts, otherwise known as peanuts. As we all know. groundnuts come naturally with an outer shell. Shelling a large number of these nuts is a labourious task and consumes a lot of time. In order to make the shelling process of groundnuts easier, Groundnut Decorticators are duly used.
This type of machine is made of steel and thus is highly compact and robust in construction. The groundnuts can be fed into the machine through an automatic feeder, which can also be adjusted by the user. These can be used for shelling groundnuts in bulk numbers, which saves a lot of time as well as labour.
Some of the main factors why a Groundnut Decorticator should be used are as follows:
The red shells are fully removed in an accurate manner the groundnuts.
These are available in different sizes and are highly easy top operate and maintain.
Notable reduction of residual oil in cakes
There is a high increase in the output and quality of oil.