GROUNDNUTS / PEANUTS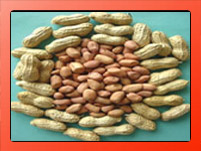 Amongst various oilseeds present in the worldwide arena, Groundnut is the most important one. Groundnut or peanut is popular for its ability to survive as well as handle all the unfavorable agro-climatic conditions. The oil content in groundnut is around 40% and the protein content is around 25%. The edible oil produced from groundnut is used in various parts of world and the oil cake produced after the oil extraction is used as the cattle feed.
Brief History of Groundnuts / Peanuts
Groundnut is also known as Arachis hypogaea L. and it is believed that it is the native of Brazil to Peru, Ghana and Argentina. It was from here that it was introduced into the islands of Cuba, Jamaica and other West Indies islands. In India, groundnut was introduced during the first half of 16th century from some Pacific Island of China.
Indian and Groundnut Oilseed
From the entire world's groundnut production, 50% is accounted by India and China, together. In India, groundnut is the primary oilseed crop that accounts for the 55% of domestic oilseed production along with 45% of oilseed area. Established as the 3rd largest producer of the groundnut in the global arena, India has the production rate of more than 5-6 million tons annually. The leading Indian states in producing the groundnut are Gujarat, Tamil Nadu, Andhra Pradesh, and Karnataka. These states account for approximately 75% of the total domestic output.
In India, out of the total oilseed production capacity, groundnut has nearly 25% of share. About 75% output is seen in the months of June-September (khariff season), while remaining is seen in the months of November-March (rabi season).
Some Important Facts
International production of groundnut seed as well as oil fluctuates between 21-24 and 4-5.5 million tons

China (2-2.5 million tons) and India (1.5-2 million tons) are the two primary producers of groundnut oil. These countries are followed by Sub-Saharan African countries and Central as well as South America
International trade of groundnut oil is 1 lakh tons annually (maximum)
EU and US are major importers of the groundnut
Senegal and Argentina are the major exporters of groundnut
Groundnut Oilseed and Its Prices
India is a country with different climatic conditions and hence this factor has a direct effect on the the production of groundnut. In particular, the South-West monsoon has a substantial role in the domestic groundnut production. In fact, the price of this oilseed depends completely on the prices of other oilseeds such as soybean, sunflower, mustard and others. Various factors that affect the groundnut prices are as follows:
International price movement of soy oil at CBOT and palm oil at BMD
Festivals & celebrations increases the prices of groundnut
Groundnut Improvement Programs
Throughout the world, there are various groundnut improvement programs being conducted. The main purpose of these programs is to develop high-yield cultivars of required duration that have good resistance / tolerance towards single as well as multiple stresses. These groundnut improvement programs are also targeted to create stress management strategies. However, there are various novel techniques that have not made any impact on the research work related to groundnut. These techniques are molecular markers added selection, genetic transformation, & gene transfer from alien sources.