SHEA NUTS, SHEA OIL & SHEA BUTTER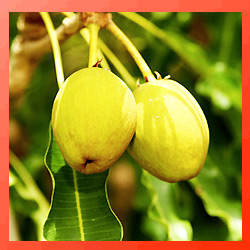 The Shea Nut consists of a thin, tart, nutritious pulp that surrounds a relatively large, oil-rich seed. It is extracted from shea tree( found in Africa and other parts of the world), which has potential to improve nutrition, boost food security, foster rural development and many more advantages. Shea Nut takes 4–6 months to ripen and it is extensively used for food and medicinal purposes especially in West Bengal. Shea Nut is obtained through four major process, which include Seed cleaning, Seed seizing (Hammer Mill), Expelling, Filtration. Further, the seed seizing process is done by hammer mill in order to produce optimum quality Shea Nut.
Having high melting point, the shea nut is widely used in the making of shea oil, shea butter, foods, moisturizer, salve or lotion, soap, cosmetic & traditional drugs(especially in rural areas), skin care lotions and other products. The production of this seed is an important source of income for many women. After removing the green pulp exterior, another method is to bury the fruit in the ground so that the pulp ferments and falls off. After this, the nuts are sun dried and then smoked for 3 to 4 days. Then, the dried nuts are being stored for long periods without significant losses.
Shea nut has many health and skin care benefits. Pure shea butter is a very rich source of Vitamin A which is very good for skin and health as well. Due to its Vitamin A richness the shea butter or shea oil is a very good skin moisturizer, with good healing and cosmetic properties for most of the skin problems.
We manufacturer, supply and export shea nuts, shea butter, pure shea oil, processed shea nuts oil and other shea nuts products across the globe. You can tell us your any requirement of pure shea oil, shea butter, shea nuts or any other shea products.