SESAME SEEDS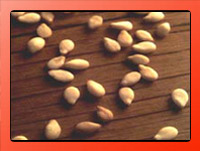 We are the leading supplier of sesame seeds and sesame oil, Indian sesame oil and black sesame oil and export all over the world. Amongst the wide range of oilseeds available throughout the world, sesame seed is a special one. These seeds have around 50 to 56% oil content in them and are processed using a wide range of sophisticated and efficacious oil mill machinery. Some of these machinery include Seed Cleaners, Seed Flakers, Seed Crackers / Breakers, Hullers, and many others. These machineries makes the job a lot easier and ensure perfect processing & refining of the edible oil.
Brief History of Sesame Seed & Its Oil
In various countries, especially West Asia, Sesame Seed is considered a crucial ingredient of their culinary traditions. The oil derived from this oilseed is being used for over a 1000 years for healing purposes. In fact, Vedas have recommended sesame oil as an excellent option for all the humans. It acts as an antibacterial for a natural anti inflammatory agent, natural antiviral, and common skin pathogens. Sesame oil is now-a-days used for cooking, paints, cosmetics, and lubricants. In the domestic market, Sesame Seeds can be found in three varieties that are:
Yellowish seeds
Red seeds
Black seeds
Production Output of Sesame Seed
At the global level, the annual output of sesame seed is approximately 3 million ton. In this output, India and China have a substantial share. China is the highest producer of seeds, followed by India. Internationally, the sesame seed production is seen mainly in some of the countries of Africa and Asia. According to an estimate, the global trade of sesame seed is around 500,000-600,000 ton every year. From the last decade, there has been rise in the production and consumption of Sesame Seeds.
India has a very important part in the international sesame business, as it has the share of about 30% of the total global output. In India, the Sesame seeds are mainly cultivated in the states of Maharashtra, Madhya Pradesh, Rajasthan, Gujarat, Karnataka, West Bengal, and Orissa.
The states of Orissa, Assam, West Bengal, and Andhra Pradesh (that form the eastern region of India) primarily produce Red and Black varieties of Sesame Seeds. As compared to the white Sesame Seed that is grown in Maharashtra and other western states of India, the Red and Black Sesame Seeds are inferior in quality.
In the eastern states, Sesame is sown with light usage of fertilizers, after the potato crop. It does not demands too much water and less amount of irrigation is required in it.