SEED CLEANING MACHINE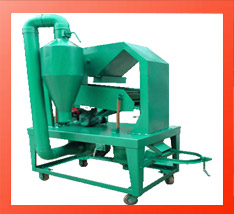 A seed cleaner enables the user to separate husks, chaff or seed hulls from Grains, Beans, Oil seeds, Cashew nuts, Almonds, Corn, Pepper, Pulses, Cereals, Spices, Copper Wires, PVC Rubber, Coffee Beans etc. Seed cleaner in oil mills machinery is an important component that can blow off lighter seeds, scalp larger trash and smaller seconds from any sample in one high speed pass. They have an unparalleled cleaning capacity even under adverse radish ryegrass infestations. The market is now flooded with diverse kind of different size machines to cater for a wide spectrum of seeds.
The seed cleaner has four bearing design, high speed, vibrating screener that works precise, large capacity and high quality separation. The attached feed hopper is adjustable and ensure a steady supply of products into the screener. The screener best separating capabilities depend on proper feeding. The seed cleaner has a balancing systems that ensure a balance free and allow the machine to be operated on any structure. The speed regulators helps to adjust an optimum speed for best cleaning results.
The reasons for efficiency of seed cleaner are plenty. High rotational speed ensure an aggressive cleaning and by adjusting the angle of the machine, time taken to pass through the barrel can be altered to remove more or less screenings. The scalp barrels detach oversize trash before the grain enters the main cleaning barrels increasing the efficiency of the machine.
Salient Features of Seed Cleaners
Seed cleaner contains gentle vibratory feeder that reduces damages to crops.
Modern seed cleaners have an aggressive design that helps to clear even the most rough materials
They have all standard bearings and replacement parts.
It has wide 54" screen can be integrated with other cleaners
The seed cleaner has a large air settling chambers for even & accurate air separation
The tubular construction of a seed cleaner is robust and ensure cleaning of all types of rough materials
They ensure an optional counterbalance for smooth operation
The screenery is large and provide enough range of screen area
Generally a seed cleaner comes in 54 square feet to 240 square feet
Steel constructed seed cleaners are the best for handling large amount of rough materials