COCONUT COPRA CUTTING MACHINES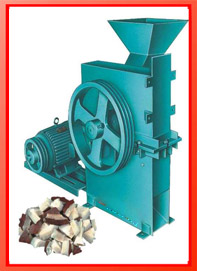 Copra(dried meat or kernel of the coconut) cutter is an important tool in the oil mills machinery and very useful to cut the copra of coconut into small pieces and afterward these pieces are cleaned and to be prepared for the breaking mill or to feed to oil expeller for crushing. Copra cutter prove to be an important accessory for oil mill accessory and used in the industry for various purpose. The beaters are an important component in copra cutter by which precise cutting of coconut copra is done.

The cutter is supported by shafts on which beaters are mounted. The two self-aligning ball bearings helps the shaft to proper mount the beaters for smooth run. One of the end of shaft shaped in a flat or V shaped pulley. The cut pieces fall through the perforated plate sieve. The beaters in copra cutter is made up of alloy steel case-hardened to give long life. The copra cutter on the other hand, is made up of mild steel and the construction is simple and easy to handle. The working mechanism of copra cutter is simple to use, and even replacing the beater requires minimum skill. Copra cutter is mainly used in cutting copra (The dried white flesh of the coconut from which coconut oil is extracted) and also used to cut other materials like oil cake etc.

To ensure the machine a fine look and sturdy function, the copra cutter is made up of M.S plate. The heavy duty double roller imported bearing in the beaters helps smooth functioning of cutter, further, it gives maximum output in a small time. The beaters are the most important component in cutter and all total eight beaters are are fitted in the machines. Specially made up of fine quality steel, these beaters with hardened heads are to break copra into small pieces before feeding. Copra cutters have small 'caves' that resist any slip a side and constantly remains with the striking range of the beaters.

The small knives are fitted in the screen that cut the copra precisely and also in uniform size. If any problem arises in screen, it is made in that manner so that can be easily removed and replaced. The copra cutter is fitted with vee-belt pulley so that the electrical motor can be directly fitted opposite the machine to require R.P.M. The capacity of coconut copra cutter is around 2500 kg of copra at 300-400 R.P.M per hour and the power need to operate is 10 B.H.P.