CHAIN WHEELS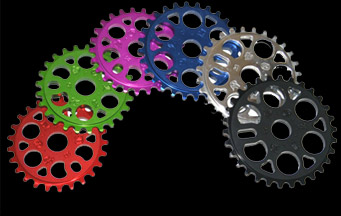 Chain wheels are an important accessory of oil mill machinery. These are resistant to corrosion and are able to withstand shocks and vibrations. These chain wheels are fabricated in different sizes, shapes and specifications to meet all the varied demands of the application processes. Most often chain wheels are designed in response to the amplify the requirement for improved oil mill machinery.

Chain wheels are available in different sizes, shapes and dimensions, but the most robust accessories are in a solid hub design for direct fitting to a valve or gear box stem. A standard chain wheel is made up of high grade cast iron rims and malleable iron guide arms. Mostly it is furnished with standard plated carbon steel or 304 stainless steel attachments.

All chain wheels available in the market are manufactured by reputed brands. Hence, their high efficiency and high performance are guaranteed. While selecting the ideal chain wheels for the oil mill machinery, it is recommended to take care of various factors, directly or indirectly related to it. It depends on the size of oil mill and the process is being used. Also, it need to take care of what types of machines are being used in oil mill machinery, the production capacity of machines and the budget of end user.

Chain wheels use in oil mills machinery are of various types. The principle types are CL Series Clamp-On Chain Wheel, C-Series Heavy Duty Clamp-On Chain Wheel, E-Series Premium Direct Mount Chain Wheel, and Multi speed chain Wheels. These chain wheels are made up of high precision and have number of advantages such as reduced noise, reduced down time and maintenance cost, no stretch, eliminates lubrication system and more importantly, no affect of corrosion. Further, all chain wheels are enhance integrity of assembly and comes in high grade cast iron and zinc plate. The precision range chain wheels are deep channeled casting for positive chain control.

These chain wheels to operate high pressure valves and can mount directly to the valve shaft. These This style is also available in the other types machinery industry. The chain wheels are economically viable and permits direct-to-shaft operation. These can be bored by user specifications and used for customer drilling.