CARBURIZING FURNACE FOR OIL MILL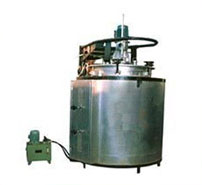 When it comes to manufacturing world-class oil mill machinery, then it is very important to choose the best machining tools that are specifically meant for the job. Carburizing furnace is one such machining tool, which is also known as an engineering device that finds usage in carburizing. Its main use if for hardening & processing facilities. The entire process includes carbon diffusion into steel. In the Carburizing furnace, its interior is heated and the introduction of the source gas takes place. This gas provides the source of carbon.
The whole process involves the diffusion of carbon into steel. In Carburizing furnace process the interior of the furnace is heated and the source gas is introduced to provide a source of carbon, after which a chemical reaction. This reaction results in the diffusion of carbon into steel, and it occurs at 850-1000°C. The overall carbon quantity, which is diffused in steel, is called its carburization performance that is displayed as CP value or Carbon Potential value. Various variables that are associated with the Carburizing Process are as follows:
Temperature
Time
Atmosphere composition
Degree of atmosphere circulation
Alloy content of the parts steel.
Features and Applications
Carburizing furnace are internationally accepted for being one of the most pivotal machining tools. These are widely appreciated for their use in the production of oil mill machinery. Some of the salient features of this furnace are easy operation & installation, better insulation system, overheating protection, uniform distribution of temperature, and simple regulation & control of the heat & temperature. The Carburizing Furnace is used for various processes such as Hardening, Annealing, Brazing, Nitriding, and Heat treatment.
Types of Carburizing Furnace
Oil Mill Machinery decides the final quality and purity of the oil produced by the processing of various oilseeds. Hence, it is very important to use only the best and efficient machining tools to manufacture these machines. There are mainly four different types of carburizing furnaces, amongst which the suitable one can be selected by the user on the basis of his / her requirements. Different types of Carburizing Furnaces are as follows:
Gas Carburizing Furnace
Continuous Carburizing Furnace
Batch Type Carburizing Furnace
Vacuum Carburizing Furnace