VEGETABLE OIL FILTERING EQUIPMENTS
Filtration of oil is a part of the many procedures involved in the field of oil processing. This stage is preceded by the processes of Cleaning, and Settling. Filtration of vegetable oil is done to remove various contaminants (particulates, water, gases, acids, etc.) from it and requires a wide range of state-of-the-art equipment. Various equipments that are used in the edible oil filtration are Filter Presses, Vertical Pressure Leaf Filters, Horizontal Pressure Leaf Filters, and many others. In addition to these equipment, there are also many other equipment such as Oil Expellers, Leaf Filters, Oil Press Machines, etc. that are extremely critical for the proper filtration of vegetable oil. The process of filtration may require a number of highly fine filters, depending on the level of oil contamination or impurity. Filtration purifies the oil for next stage in oil processing i.e., deodorizing. Filtration of oil is very important as it is proven that filtered cooking oil is highly pure and good for health.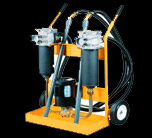 Before moving ahead, one should understand the importance of oil filtration. As per the TRW (Bearing Division), "contamination is the primary cause of bearing damage, which results in premature removal." Also, there is a report of Machine Design Magazine, which states that less than 10% of all rolling-element bearings face the fatigue limit only because of the contamination that causes wear or spalling failure much before. Hence, Oil Filtering Equipment holds extreme importance and must be of the highest quality, to ensure complete perfection in the filtration process of oil.
Presently, there are a number of Oil Filtration Equipments in the market that are manufactured by different companies. Each equipment is available in different capacity and other specifications, as per the industry standards. There are a number of machines and tools involved in the production of these equipments. Some of the manufacturers even offer customized solutions to the customers wherein they develop the oil filtration equipment, according to the specifications provided by the customers. Few of the salient features of Oil Filtering Equipments and Machines are as follows:
Innovative and flexible design
Sturdy construction
High up-time
Higher efficiency
Simple operation
Lesser maintenance
Easy cleaning
Readily available spares and components.