VEGETABLE OIL REFINING EQUIPMENT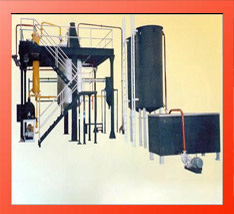 The oil refining is a step by step process. Refining of oil removes phospholipids, pigments, off-flavor, free fatty acids, and other impurities. The process comprises Degumming / Neutralization, Bleaching, Deoderization, and Winterization. Basically, chemical refining is used in order to remove the fatty acids from the crude oil that is extracted from the seeds. These are further neutralized with the use of caustic soda. This results in the removal of sodium soaps by batch settling or centrifugal separators. The neutral oils are then bleached and deodorized.
Apart from chemical refining, another method that is used for the refining of edible oil is physical refining. Through this method, the free fatty acids are removed through the process of distillation in one stage of deodorizing. In order to come up with effective results, the crude oil should be degummed well. This is not applicable with some oil like the oil extracted from cottonseeds. All kinds of refining methods are done with the help of various equipment and machinery, and are used to refine almost all kinds of oil extracted from oil seeds like Sunflower seeds, Linseeds, Groundnuts, Sesame seeds, Mustard seeds, etc.
In order to carry out all these oil refining processes effectively, there are a number of refining equipment available in the market today. Manufacturers are making the most of science and technology to come up with the most innovative and developed range of oil refining equipment and plants. This tremendously helps in meeting all the needs of the oil milling industries and in producing the most efficient and high quality range of edible oils. Some of the equipment and machines that are used for the process of edible oil refining are Crude Oil Tank, Neutralizer Refinery, Neutralizer Oil Tank, Oil Refining Plants, and many more. These equipment can be further customized as per the requirement of the users. Some of the major features of the modern oil refining equipment are as mentioned below :
Less loss of oil and high refining ratio
Sturdy and compact construction
Available in different sizes, types, and capacities
High efficiency
Simple operating mechanism
Long working life
User-friendly
Readily available spare parts in the market
Needs very low maintenance