EDIBLE OIL MILL MACHINERY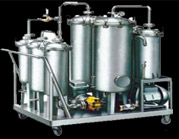 The oil milling industry is a large and highly developed business. For the production of oil, a systematic oil processing method is applied, which includes seed processing, oil extraction, cake processing, oil filtering, oil refining, and solvent extraction of residual oil. These processes have always been the same ever since earlier times. Although what has changed is the way in which the oil is extracted and refined for use. Earlier, the ways to carry out these processes were very simple and executed manually. It did help in producing oil, but the quality and quantity were not so adequate. It also consumed a lot of time as well as human labour. Nowadays, there are numerous machinery equipment that are available in the market. These equipment are highly advanced in terms of technology. Apart from producing quality oil, these equipment helps in saving precious time as well as labour.

For the achievement of extracting optimum quality of oil from oil seeds, the seeds need to be cleaned, cooked, and processed. Each seed is different and contains a varying amount of oil in them. The seeds have to be separated from all kinds of unwanted materials like hulls, husks, stones, metals, sand, dust, glass, etc. After seeds are cleaned, cooked, and processed, these are fed into the Oil Expellers / Screw Presses that are used to crush the seeds / seed meal so that the oil can be expelled from them. The oil is then collected to be further refined and filtered for use. Apart from the extracted oil, what is left behind is a solid residue from the seeds, which is also known as oil cakes. The oil cakes are further sent for solvent extraction process in the solvent extraction plants, to strip the cakes of all the residual oil that are remaining in the cakes. Even the cakes need to be processed for this process. For all these processes, various machines are made use of, which are easily available in the market.
The range of edible oil milling equipment available in today's market are very user-friendly and are easily adjustable and controlled. Today, manufacturers are coming up with the most innovative and hi-tech machines, which have the following salient features:
Suitable for crushing all sorts of oil seeds like Rape seeds, Mustard seeds, Sunflower seeds, Palm kernels, Safflower seeds, Linseeds, Groundnuts, Walnuts, Sesame seeds, Flax seeds, Soybeans, Copra kernels, and many more.
Easily adjustable and does not need high skills to operate them.
The yield of oil is much higher and of a much better quality.
Needs very low maintenance.
Consumes very low power as well as fuel.
Parts are easily available and can be assembled easily.
Highly sturdy and compact construction.
Can be installed and transferred to different locations with ease.