VEGETABLE OIL MILLS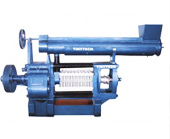 Vegetable oil mill(also called as oil mill) is a grinding mill that is designed to crush oil bearing seeds such as cottonseed, linseed, peanuts, or other oil rich vegetables, plants, etc. to extract the vegetable oil. The oil obtained is widely used in cooking, as a bio fuel or lubricant. Moreover, the remaining material from which oil has been extracted can be used for various purposes once of which is in fertilizers. People have been using oil-rich vegetables, plants or seeds to extract oils for thousands of years. Initially, mechanical extraction was undertaken by using vertical millstones that move around a central post to crush the seeds. The seeds were later pressed to extract the vegetable oil. Later, windmills, treadmills or watermills were used to drive the pressing/ milling machinery.
Now, there are advanced mechanical oil mills having the capability to process up to 4,000 tons of material per day in hot pressing processes & up to 25 tons per day cold pressed. Most of the vegetable oil mills use a screw to crush seeds, plants, etc. in a continuous process. Then, the oil is extracted from the press cake through centrifuge or a solvent like hexane. Oil mills are installed with different kinds of machinery or equipment such as Sunflower Cracker or Palm Nut Cracker, Decorticator & Separator, Copra Cutter, Filter Press, Boiler, Oil Expeller with Cooking Kettle, etc. These are used in the production of oil from varied sources.
After obtaining the crude oil from oil expeller & oil mill plants, it is very important to refine it. The refining process is carried out with the use of Refinery Plants so that the oil can be utilized directly. Further, the Vegetable Oil Refinery Plant ensures color uniformity & good quality of the oil by eliminating unpleasant smell. Oil refinery plant comprises neutralizer, deodorizer, bleacher, cooler and other equipments. In addition to the aforementioned machines, there are various other tools that are used in the oil mills. Termed as oil mill accessories, the tools include Chain Wheels, Clamping Bars, Elevator Chains, Motor Shafts, Main Shafts, and more.
Number of well established manufacturers across the country are engaged in supplying world class range of vegetable oil mills in the market. While purchasing oil mills or related machinery, you should make sure to check the technical specifications in order to ascertain that it suits your requirement. Further, the oil mills are also available in customized specifications as per the clients' need or provided drawings. Many manufacturers also assist the customer in installation, commissioning as well as maintenance of the machines.
Contact us to buy or for more information on any types of oil mills, vegetable oil mills for the production of any kinds of vegetable oils.