VEGETABLE OIL NEUTRALIZER REFINERY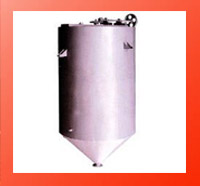 For the effective refining of vegetable oil, a meticulous and methodological process is adopted. After the oil is extracted from the oil seeds, they are not edible. They are known as crude oil, and in order to use them for edible and other purposes, it is very important to refine them. Neutralization is one of the processes involved in refining crude vegetable oils, other than bleaching, deodorization, and winterization. We manufacture and supply state of the art neutralizer refinery used in the process of refining vegetable oil, cooking oil and other edible oil.

The crude vegetable oils or fats that are extracted or expelled with the use of screw presses or solvent extraction generally contains non glyceride impurities. Through the process of neutralization, many impurities and free fatty acids are lessened from the oil by changing those impurities / fatty acids into oil insoluble soaps.

After the oil is extracted through extraction process, the oil is stored in a crude oil tank. The stored oil is then pumped into the Neutralizing Tank with the help of an oil pump. The pre-degummed oil is saponified with the use of caustic soda and thus the sodium soap is separated. The extracted oil is firstly heated. In order to condition the non-hydratable phosphatides, phosphoric acid is added and mixed with the oil, which leads to a reaction. The diluted caustic soda is further added so as to neutralize the fatty acid as well as the phosphoric acid. After the mixing is done, the mixture is passed directly to the first separator or through a reaction tank. Further, the soapy water is washed in a separator. In order to reduce the water consumption in oil refineries, silica absorbents are used for removal of residual soaps right after neutralization. Free fatty acids are neutralized or saponified to be soap stock.

A neutralizer refinery consists of cylindrical shell bodies with a steep conical bottom. There are also atomizers that are mounted on the top of the neutralizer, which are used for the proper dispersing of the caustic soda as well as hot water for washing purposes. Apart from that, motor gearboxes are also mounted in order to provide for a long and hassle free operating life of the equipment. There are ample amount of Neutralizer Refineries that are available in the market today. These are manufactured by top class manufacturers from all over the world. These equipment can also be customized keeping the need of the oil refining industries in mind. Some of the salient features of the Neutralizer Refinery available in today's markets are as mentioned below:
Sturdy construction
These are available in different sizes and capacities.
These are extremely easy to use and needs very low maintenance
Ability to work for long hours.
Checked and tested fabrication to prevent any form of oil loss.