CRUDE VEGETABLE OIL REFINING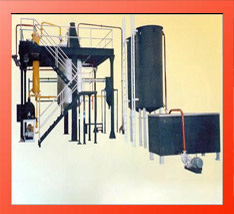 Vegetable Oils are sourced from a variety of seeds, nuts and grains and nuts such as Canola, Coconut, Castor, Corn (Maize), Mustard, Cottonseed, Olive, Palm, etc. After extraction from the seeds, crude vegetable oil contains a number of impurities like solids, moisture, gums, waxes, free-fatty acids (FFA) as well as compounds of Sodium, Magnesium, Calcium, etc. that make them unfit for use. To make oil fit for cooking, frying foods and other purposes, these impurities are removed through refining process. This process is done using high technology machines, equipments, refinery and plants to ensure the efficient refining and production of pure vegetable oil.
The Refining Process of Vegetable Crude Oil Includes the Following Steps:
Chemical Refining:
The oil is treated for eliminating free fatty acids from oil with caustic lye. During this conventional process, soap-stock is used to manufacturing low quality washing soap.
Physical Refining:
The oil is distilled to eliminate free fatty acids. This process is preferred to Chemical Refining as it requires no soap-stock. Given below is the series of steps taken during this type of refining:
Degumming:
The sole purpose of this step is to remove Gums presented in all types of oils. Hydratable gums are eradicated by treating oils using water. On the other hand, non-hydratable gums are removed with acids.
Neutralizing:
The aim of Neutralizing Vegetable Oils is to eliminate Free-Fatty Acids (FFAs). In this process, the Free-Fatty Acids (FFAs) are evaporated under high temperature as well as vacuum.
Bleaching:
The main purpose of Bleaching is to eradicate color pigments from Crude Vegetable Oils. The oil is carefully treated with Bleaching Clays to adsorb all the color pigments. After that, the clay is filtered.
Deodorizing:
The clean bleached oil is then deodorized to remove present odor substances. The oil is distilled through steam under high vacuum and temperature to disperse all odor substances. The oil comes after this process is bland and tasteless.
Dewaxing/Winterizing:
This process is done to remove waxes. The oil is subjected to chilling as well as filtration to take away the waxes along with other high melting point materials.
Hydrogenation:
Vegetable oils are hydrogenated to attain desired level of saturation for make them able for further purposes. They are hydrogenated in the presence of a catalyst under high temperature as well as pressure.
For Conducting the Above Process, a Number of Technically Advanced Machines and Equipments are Used Such as:
Acid Oil Storage Tank
Agitator and Motor
Automatic Steam Kettle
Belt Conveyor
Bleached Oil Tank
Bleaching Tank
Bucket Elevator
Centrifugal Separator
Cooling Tower
Crude Cake or Residue Cooker
Deodorization Vessel
Deodorized Oil Tank
Dirty Oily Tank
Dry Run Bin
Electromagnetic Discharge Belt
Feed Pump
Filter Press
Float Level Control Pump
Hot Water Tank
Neutralized Oil Tank
Screw Conveyor
Slurry Tank
Soap Washing Tank
Vacuum System
Vegetable seed Crusher
Vibrating Screen
Washed Oil Tank
These machines and equipment are designed to make the crude vegetable oil refining process easier, faster and safe. With easy to use features, robust construction and continuous operation, they allow vegetable oil manufacturers developing pure and high quality oil.